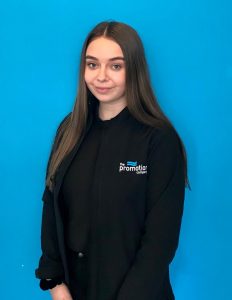 We are pleased to welcome Charleigh Colby to The Promotion Company (TPC), as our new Apprentice through Hull Business Training Centre (HBTC).
Charleigh is from East Hull and went to Archbishop Sentamu School, then Wilberforce Sixth Form College. She is now undertaking the Level 3 Business Administration Apprenticeship with HBTC one afternoon each week. During this time Charleigh is working on a portfolio of work to support her qualification.
Charleigh says:
"I am really enjoying working at TPC so far. At the moment I am shadowing the team, learning how to do a variety of jobs including printing t-shirts and workwear and I am also helping Joe to produce artwork for clients who have ordered a whole variety of promotional merchandise items."
"I chose to do an Apprenticeship as it is great to be able to earn while I learn and at the same time, get really good work experience. I would definitely recommend this career path to other people as an alternative to College or University."
In her spare time, Charleigh is into pop culture and goes to lots of music concerts. As a bit of an Ariana Grande super-fan, she has been to see her four times, including the tragic Manchester bombing concert. Fortunately, Charleigh and her Mum were safe. She is also a big fan of Little Mix.
A slightly unusual choice of pets, Charleigh has a Giant African Snail called Skylar who is still a baby but is expected to grow to approximately eight inches and can live up to twenty years! She also has a pet rat called Pascal.
Angela says:
"In just a few weeks since joining us, Charleigh has settled in really well and already feels part of the TPC family."
"It is very important to us to support young people who are just starting out and we have endorsed the Apprenticeship scheme for quite a few years. During the selection process for this role, Charleigh really stood out as a confident and happy person who is keen and really willing to learn. We are all very pleased that she accepted our offer of work."
"This is the first time we've had an Apprentice from HBTC. The connection is through the business networking group I am part of, BNI Kingstown Bevan. We worked with Louise Clubley who is the Apprenticeship and Training Manager and I have been impressed with the service and the recruitment process. I would recommend them to other companies who are considering taking on an Apprentice."