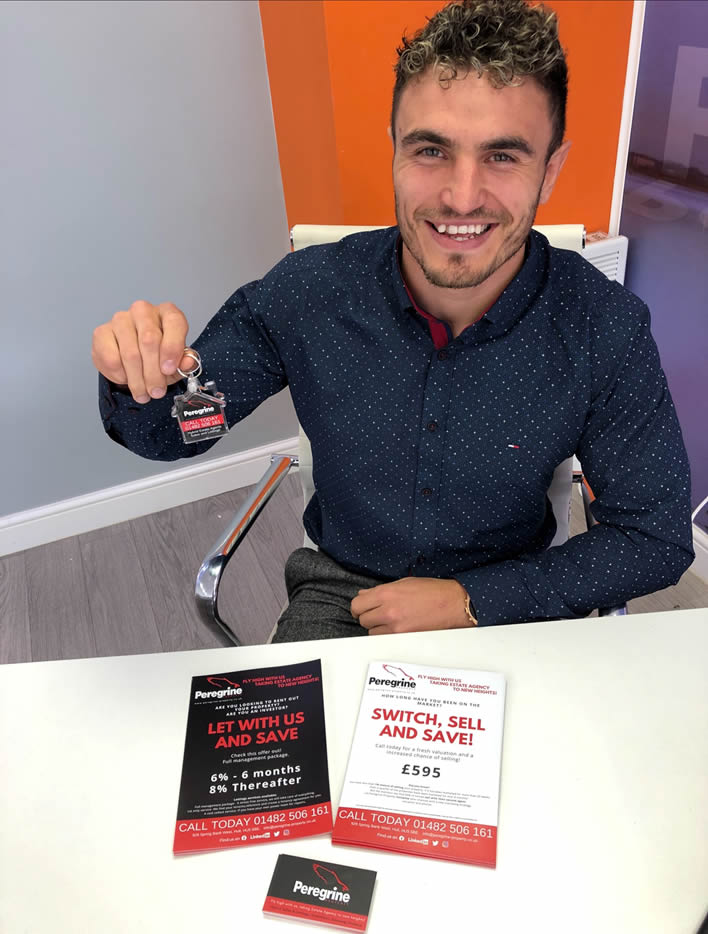 Dave Petersen has had an interesting life. Playing professional rugby and travelling around the world for four years, whilst all the time investing in property, led to setting up Hull's only hybrid estate agency.
After purchasing the already established, Peregrine Property he was looking at ways to generate new business and spread awareness that Peregrine is different to the average estate agents and our Director, Angela met Dave at BNI Kingstown Bevan, where she is a member of the business networking group.
Working as a traditional estate agent for local people in Hull, as well as selling online for home owners around the UK, the company has some very strong marketing messages referring to the characteristics of the Peregrine falcon; flying high above competitors and soaring over other estate agents and swooping in to buy a property. This type of branding lends itself perfectly to promotional items.
To kick start these promotions, we supplied Peregrine Property with key rings – literally key for an estate agent, these act as a regular reminder of the buyers' positive experience and Dave is confident they will pass on the message that Peregrine goes above and beyond to help his clients.
We also supplied some pens and leaflets, printed to engage with home owners in the areas surrounding properties for sale with Peregrine and help to add new properties to the sales portfolio.
Dave says:
"I was fortunate to meet Angela at BNI as a few years ago, an accident happened within my family, changing the course of my life. I set up a charity and Angela supported and helped me through a huge event I had organised, by providing amazing marketing products for FREE. I know first-hand her heart is certainly in right place and is willing to help many people."
"Since then she has helped me again personally and for the business given me some fantastic marketing advice, she didn't just try to sell me promotional products. I found Angela has a wealth of knowledge and she also introduced me to some of her contacts who have helped in other areas of my business."
"As a new company my budget has to be spent in the right areas and although marketing is about testing and measuring, the team at The Promotion Company said they always got excellent feedback from the items recommended to me."
We all know that buying and selling a house is one of life's most stressful times but Peregrine aims to lead the way in both the marketing of properties and personal interaction with all clients.
Achieving a strong market share for a new company has required hard work and dedication and we believe that boundless enthusiasm and care for clients will help Peregrine to achieve their goals.
Watch this space and if you would like to sell or let your home, look up www.peregrine-property.co.uk