MKM is the largest independent builders merchant in the UK, with over 70 branches across England and Scotland.
Historically, the MKM team have celebrated the opening of each new branch with an exclusive pre-launch event, inviting potential customers, suppliers and community members.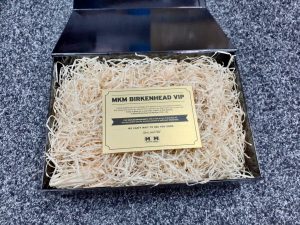 The latest branch, MKM Birkenhead on Merseyside, opened its doors on the 20th July. However, due to the lockdown restrictions, a pre-launch event at the branch was not possible.
Delivering excellent customer service and building strong relationships with customers and suppliers is key to MKM's success. Knowing that initial community engagement is crucial, especially with challenging business conditions relating to the worldwide pandemic, we helped MKM explore an alternative marketing path!
Following our advice, the marketing team chose a special gift for the people who would have been invited to the opening. We supplied beautifully presented bottles of Champagne, which were delivered prior to the opening date and invited potential customers to raise a glass to the new Birkenhead branch.
Angela Oldroyd, Director at The Promotion Company, said:
"We have always admired MKM and the way the company operates. They have the best interests of their employees and customers at the forefront of everything. Therefore, it is a genuine pleasure to be involved in this project which celebrates the launch of a new branch, creating new jobs and opportunities for people in the area."
"The brief was to grab the attention of potential customers. We knew it would make somebody's day to receive an unexpected gift as a gesture of goodwill."
"I have a passion for marketing and exploring different ways to create engagement and throughout the pandemic, all of our clients had to change the way their brand communicates.
"Our team prepared each gift by-hand to represent the MKM brand in the best possible way."
Shabana Syed-Elvidge, MKM New Branch Marketing Manager says:
"These gifts created the element of surprise and the wow factor needed to introduce the MKM brand into the community in Birkenhead.
Initial feedback from customers has been very positive and it has proved to be a great conversation starter for the team. We will certainly look at similar projects in the future."