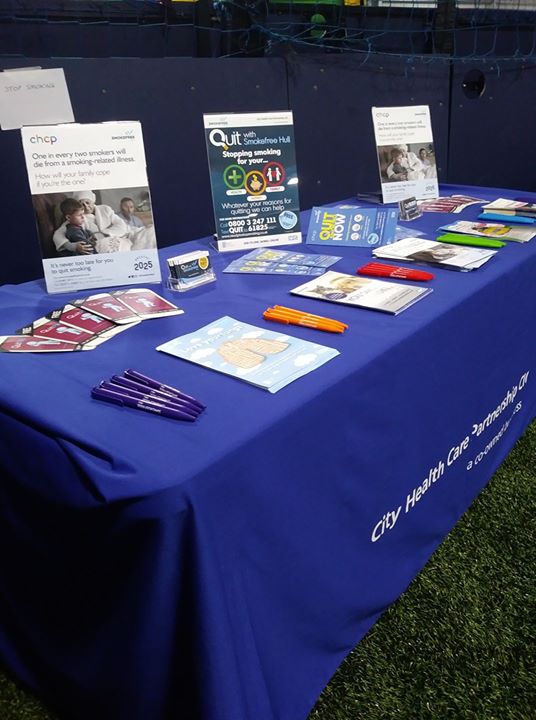 City Health Care Partnership (CHCP) provides a diverse range of services from health visiting to palliative care and school nursing, to stroke services for people across Hull and East Yorkshire.
The Promotion Company (TPC) has had an excellent working partnership with CHCP since 2009, advising and providing promotional products to support marketing campaigns that raise awareness of services and promote health and wellbeing across the community.
Vicky Sanders works in the Marketing Department at CHCP. She says:
"The Promotion Company has worked with us on various campaigns over the last ten years. Currently we are promoting the Hull Stop Smoking Service and for this we have simply ordered pens to give away to the general public when we are out and about, raising the profile of our service."
"Last summer TPC produced water bottles for our sponsorship of the Hulltimate Challenge in Hull City Centre – all finishers received one at the end."
"Everyone likes a freebie and giveaways always draw people to our stall which helps us to engage and give more information about our services."
"We usually know what we want to order, but the team at TPC make great suggestions for us and provide a variety of options to give the best value for money on regular items such as pens, canvas shoppers, trolley coins, uniforms, work wear and key rings."
"With any marketing it is important to test and measure the activity and we know that this path or marketing is highly effective, people hold on to promotional items and remember our services. They might not always be ready to engage with our services on the day but know where to come when they do have a need."
"We would, without doubt recommend The Promotion Company. They always provide an excellent service and supply excellent quality goods. We view them as a friendly local company and we are happy to be able to use their service."
The team at The Promotion Company enjoys working with CHCP. We always get really good feedback on the products and it is always good to hear from clients about the benefits of purchasing promotional items and work wear and the positive effect it has on their marketing campaigns.