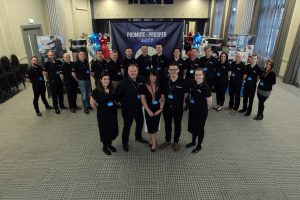 We had an excellent response to this year's Promote and Prosper event and received huge support from within the industry's top promotional product and branded clothing suppliers, who displayed examples of the latest promotional items available on the market.
Sessions throughout the afternoon included; Question Time, hosted by Blair Jacobs, joined by a panel of experienced and well respected business people from Hull including; Martin Lauer from The One Point, Christina Colmer-McHugh from Moodbeam, David Kitney from Emmerson Kitney and Paula Litten from Pro-Fusion Partnerships. Together they discussed the question: is it business or personal and how do we engage emotionally with our employees, clients and suppliers?
Mike Rice shared the success story of Hugh Rice Jewellers. He gained vast knowledge and experience since joining his brother in the watch and jewellery trade in 1976 and, has helped the company to become a nationally recognised and award winning jewellers.
Angela Oldroyd, Director of The Promotion Company said:
"I loved the event this year, as I always do. All the hard work preparing for such an event comes together with the support of our team, loyal suppliers, wonderful speakers and the fantastic attendance from clients, new and old."
"Running a business in Hull is rewarding on so many levels. This event was a great example of the superb Hull business community coming together. The main purpose of the event is to promote our business and this path of marketing. Gauging by the very positive feedback and number of enquiries we have, confirms that our purpose has been fulfilled."
"It was also an opportunity for us to share our new brand with the local business community – The Workwear Company. We have an excellent reputation for supplying branded and promotional clothing in this area already, but felt a re-brand will raise the awareness of our products and this service in particular. We are currently preparing to launch the new website which will allow clients to order regular workwear items online as well as view our entire catalogue for clothing inspiration. Watch this space for our website launch."