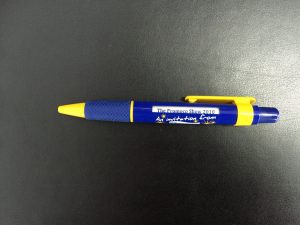 Advertising your brand can be very expensive. The cost of a single billboard site in a city is, on average, between £500-£1000. Though initially cheap, the cost of a successful Facebook advertising campaign can quickly add up, and the price of a magazine advert can range from hundreds to tens of thousands of pounds, only for it to end up in the recycling bin. While advertising is essential, if you want your brand to attract more customers, budgeting for such things can be a nightmare, but it doesn't have to be!
Recently at The Promotion Company, we had a lovely visit from a long-time customer, Tony from Golden Fry Fisheries who much to our surprise was still using a promotional pen we had given out at an event in 2010. It was one of our German manufactured Senator pens that cost approximately 50p at the time; Tony's pen had never been refilled but is still working a treat. It has truly stood the test of time and looks practically brand new. Ageing better than most, this unlikely low-cost promotional tool has provided years of advertising for less than a pound, and it worked.
While expensive advertising techniques may initially have a powerful impact, their longevity doesn't always hold up and brand awareness needs repeated activity for you to stay ahead of the competition. The reason promotional merchandise is such an effective advertising tool is that potential customers like to keep their freebies. From pens to key rings, the range of things we can customise with your company's branding is huge, and they are all practical and useful items that people will be happy to receive and won't throw away. Not only that, but every time the recipient of your promotional merchandise uses their item they will be reminded of your business, and with our pens proving they're able to endure years of wear and tear, the lasting impact of the advert is immense.
Our range of budget pens start from as little as 21p. If you haven't already, give promotional merchandise a try, you never know where your brand might end up!