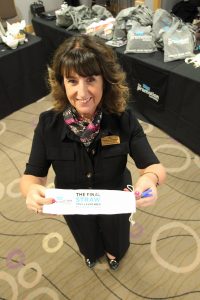 The Promotion Company (TPC) has been delighted with the response to our Seventh Promote and Prosper event, which this year was held at the new location, KCOM Stadium.
Angela Oldroyd, Director of The Promotion Company opened up the speakers' part of the event, which this year, cast its net further afield to embrace the Humber region as a whole. TPC invited three ambitious speakers to give a taste of their major projects, coming our way.
Andrew Horncastle talked about the entrepreneurial spirit in the area and how as a city we can achieve everything we want if we just focus, collaborate and support activity in the region.
Diana Taylor from Marketing Humber demonstrated the work the organisation is doing with the support of its members and highlighted the Waterline project, which will enable us to live with the water that surrounds us.
The speakers left our audience feeling positive and enthused about the variety of projects and effect their ideas are having on the Humber region as a whole.
Our Director, Angela Oldroyd began by describing the day a Head Hunter called her home in Leeds, offering Richard Oldroyd a position in Hull. Her initial reaction being: "Why would I want to go and live in East Yorkshire?" However, years later, Angela and her family are proud ambassadors for Hull and the Humber region and her confidence and passion is infectious.
She said:
"We know from our own experience, living and running a business here, that the old adage 'givers gain' is absolutely true. If you help people, they WILL want to help you in return."
"I believe the Humber's cup is absolutely overflowing. It's yours for the taking, IF you communicate effectively and seize the opportunities with both hands."
Andrew Horncastle MBE from Horncastle Group and Chair of FEO was the first of our speakers. Coming from an entrepreneurial family who all had their ups and downs in business from working the land with cattle, the Merchant Navy, fishing industry, whaling and fish and chip shops. He said:
"I am very passionate about this area; it has been good to me and my family. I was born and have lived and worked here my whole life. The region has given me the opportunity to promote what I do and to prosper."
"I have been determined to succeed throughout my life. I have sold 5 businesses and set up others. Making money has been a great consequence of this success, but it is not the main reason I do it… I don't consider myself to be an entrepreneur or businessman, instead I'm a problem solver."
"A way to solve our problems locally is to stop looking outside the area for help and support. We have to do it ourselves and I feel a local enterprise partnership between local authorities, Universities, Colleges, businesses and voluntary organisations is the way to achieve it."
"Economy Stupid is where everyone complains but no one is prepared to do anything about it. I say it's time we turned this on its head and just got on with it."
"There is much to celebrate this year – it is For Entrepreneurs Only's (FEO) 10th Anniversary and I feel proud to be a founder member and Chair. We are achieving our ambition to create wealth and bring jobs and business to Hull. This means we are putting money in the pockets of local people who are able to buy their own property and spend their disposable income within the local economy."
"Through FEO we know that this area creates really good entrepreneurs. Well-known families such as the Healeys who created Meadowhall and Wren Kitchens, the Rix family, MKM and Sewell Group etc. But also the many SMEs who create much-needed jobs."
"Myself, I hated school as I was bullied and avoided going in as much as possible. But those people gave me fire in my belly to make something of myself, perhaps more than they did. So I would actually like to thank them for that!"
"My background is in construction and I am a risk taker. If I compare my successes and failures, I succeed when I put in one hundred per cent effort, tunnel vision and really want it. This region needs to do the same to succeed. The question is, do we all really want it? If so, let's make it happen."
"In 1979 I was 20. Britain was the sick man of Europe, tax rates were at 83 per cent but then with a change of government, the mood shifted and my generation felt very optimistic. Now I believe we have entered a new decade that can really deliver for young people who are also prepared to work for it. The future can and will be bright as business opportunities come from the need for the the food industry, healthcare and transport – plus other careers and businesses that haven't been invented yet."
"We can all be inspired by John F. Kennedy's plans – he wanted to put a man on the moon by the end of the 60s. This ambition drove the technology and created the vision to achieve it. The Hull Lagoon project IS a big vision of this type of magnitude."
"We also need to love this place and speak about it more positively. When you visit Liverpool you see how much Liverpudlians love their city and it's infectious, we should do the same."
"What will we do with our new opportunity? My view is looking at advice from JFK: Ask not, what can the Humber Region do for me, but what, can we do for the Humber?"
Read part 2 of this blog on Monday…