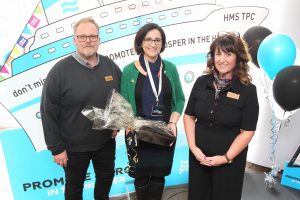 Following on from our blog post on Friday, The Promotion Company (TPC) is delighted with the response to our Seventh Promote and Prosper event, which this year was held at the new location, KCOM Stadium.
Diana Taylor is the Managing Director of Marketing Humber.
Diana is not from the region but moved up here to work for BP Chemicals and at the time, colleagues in the South commiserated for her having to live near Hull. But 25 years later she is still here and now the Managing Director of Marketing Humber; promoting the region which has powered the UK economy for decades, bringing everything from food to freight, coal to cars, passengers to petroleum and the UK's busiest port. She says:
"Marketing Humber has a small team with a big reach. Our Board shares the same passion, excitement and vision and we come together to promote the Humber region to the rest of the UK."
"We have made excellent connections within the national media – BBC, The Times and more recently The New Statesmen. Our team produces excellent resources which members can use to help spread the positive message."
"We are well-known for our events, collaborating with members, focusing on bringing aspirations and positive attitudes."
"Do you know that the Humber generates 25 per cent of the UK's power and that we are considered to be Britain's Kitchen – massive food producers and artisan suppliers which is a fast growing market."
"It is our aim to be the first zero carbon port and we are creating a talent pipeline which is generating opportunities for everyone."
"The Waterline Campaign is a first of its kind – responding to a challenge greater than recruitment and Brexit, but, we believe the world's biggest threat, (climate change) is our region's biggest opportunity."
You can sign the pledge to commit to taking action and make practical changes at home, school and work in order to reduce carbon emissions and build a sustainable future for the Humber region here.
Tim Rix is the Managing Director of Rix Petroleum, a sixth generation family business which continues to make a big impact on the local economy.
With roots back to the 1930s, Rix operates around the UK with a turnover of £500m and employs 650 people. In 1905, Rix set up in the Old Town's High Street, when coal was king and now in the 2020s, coal is no longer and the renewables industry is proving vital to deal with the challenges we face.
Tim reminded us that 98 per cent of UK caravans are built in the Humber. Rix operates in this industry with Victory Leisure Homes (VLH), an innovative company changing the production and environment in which they are built – an output of 1200 units per year.
VLH is collaborating with Ron Dearing UTC to change manufacturing methods, using 3D design and improving the customer experience using virtual reality. He says:
"In our business there has been more change in the last 10 years than the 150 year prior. However, people still remain our greatest asset – we do not employ the traditional command and control ethos of so many long-established businesses, instead we aim to empower and expect individuals to use their initiative."
"I agree with Angela, Andrew and Diana – we need to change the negative perception we have of our own region. An interesting approach is the Magnetic Cities Report which showed how a city with a strong magnetic pull draws in new residents, visitors and business investment."
"We need to keep up the momentum that City of Culture started. It made people believe in Hull again. Plus projects such as Siemens have been so successful they are repeating what they have done and building a train factory in the region. RB has built a worldwide R&D centre here and the Energy Estuary is a success. To take this even further, I would like to see the north and south banks of the Humber working more closely together."
"The Lagoon project is big and bold. It has to be as our city is the most vulnerable city in the UK to coastal flooding after London, yet the Humber makes a major contribution to the UK economy."
"The Lagoon is being supported by Humber businesses. It will protect Hull from inevitable flooding but it will also provide a southern relief road to improve congestion in the city centre, create a new waterfront where people want to live and, provide 14,000 high quality, skilled jobs. It is the biggest opportunity to take advantage of the renewables industry, up-skill our local workforce and encourage others to relocate here. I am hoping you will get behind The Lagoon and support it."
Tim showed a video about the project which included local MPs, Lord Prescott, school children and local business owners clubbing together to promote it. Lord Prescott said: "The Lagoon will make Hull the new Texas, one of energy based on renewables."
Even though this project could take decades to build, Tim and a group of other businesses decided to do it, simply because it is Hull's answer to climate change which will protect future generations and can be used as an example on how the world deals with water.
Sign the pledge here https://www.lagoonhull.co.uk/support
The Magnetic Cities report is here.
Angela closed the meeting on a high:
"I am sure you will all agree, we have reason to be hopeful in this region. We all have a responsibility to be positive and promote this area and, as our speakers said, no one else is going to do it for us."
"We organise this annual event to help our business 'Promote and Prosper' and the same applies to the Humber."
"I want to thank the recruiter who called us all those years ago in Leeds. This has been a fantastic place to bring up our family, develop and grow our business and build excellent relationships with friends and business colleagues alike. It was the best move to help our business and family to Promote and Prosper."