Relationships are only the tip of the business Iceberg!
At The Promotion Company, we believe that the best way to offer excellent service to our customers is to generate quality and meaningful relationships with them. That way, we understand their organisation and how we can help them to create engagement with their markets. You can therefore trust us to offer you the most appropriate products for your clients.
We met Darren Peacock of Peacock Finance through networking events around the city. This soon developed into a working relationship, resulting in orders for his business: business cards, USB drives, notebooks, pens, highlighters, and large format printing.
As we developed our relationship, Darren began to introduce us to his contacts, communicating to them the benefits of using our products, this resulted in orders. Through Darren's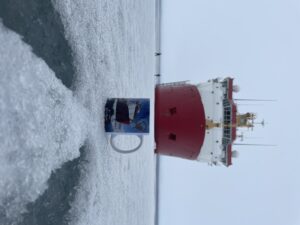 sponsorship of St Paul's Boxing Club in Hull The Promotion Company became the supplier of branded sports clothing and merchandise for the Club. Between us, we have been able to provide support to St. Paul's through this sponsorship. We're proud to support a historic Hull institution that continues to offer so much to the youth of this area.
Darren's son, Elliot has become a client this year too, and we are now proudly working with him and the Royal Navy by supplying printed and embroidered t-shirts and woolly hats as well as other branded merchandise.
As previously mentioned, relationships are crucial in business, and this has been proven when Elliot sent us these fantastic photographs of a recent Royal Navy Artic expedition. Not only has he taken the time to take some wonderful photographs of the wildlife, but he has also kindly included our brand in his shots and some of the products we have produced for him and his colleagues. This is a fantastic example of how relationships work in business and our products can help to strengthen a brand. Please see the images for Elliot and friends supporting our brand on the ice of the Artic!
Not a bad result from a brew at a networking event…