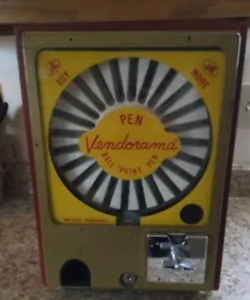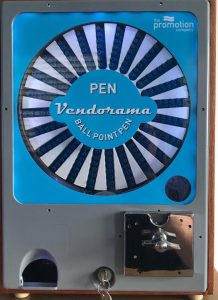 One of our Directors, Richard Oldroyd loves tinkering and renovating old items – anything from furniture restoration to this wonderful 1950s pen vending machine, sourced in an online auction from the USA.
The machine was jammed up with 50 years' worth of oil and dirt. Richard stripped it down, varnished the wood, repainted the unit, replaced all of the graphics on the front and freed up the moving parts with tender loving care.
Richard says:
"The machine renovation was completed over a weekend and this type of work is very therapeutic. I love taking an old piece of furniture or special machine like this and bringing it back to life."
"Regardless of technology. Statistics state that people still love pens and that they have an average of six owners – a sure way to strengthen any brand, so this machine almost reinforced that message, given its grand old age of nearly 70!"
"I included batteries to make the lights work but the vending machine is all mechanical so there were lots of fiddly parts. For me this is where the fun starts, making sure everything goes back in the right place."
"Having a job like this in front of you requires all of your attention and leaves no room to think about anything else, it's a fantastic escape for me."
Richard has also refurbished a number of items of furniture, some of which we may share on social media.
The Pen Vendorama is a fun item for us to use at exhibitions and shows. Next time you see us pop along for an American quarter of your own to vend a Promo Co pen.