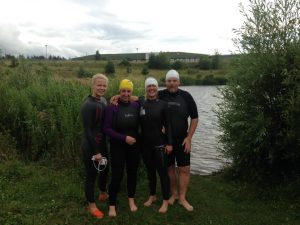 Never one to shy away when faced with a challenge, Managing Director of The Promotion Company, Angela Oldroyd will be taking on a two mile, open-water swim in September, as she joins the Grimsby Water Rats for their Dock Swim Challenge series.
After making headlines for hers and Richard's weight loss success in 2016, the couple has been taking on any challenge that comes their way. From skydiving to running, over the past year, Angela has truly made the most of her new lifestyle, but it was watching Richard's success at the Triathlon Sprint last June that inspired her to take a plunge and register for a 2-mile swim.
The most challenging aspect of this swim for Angela is the fact that it is in open-water. After the scary experience at the age of 13, when she was taken away by a wave and dragged across a beach, Angela has since been terrified of open water, so is facing a big fear by daring to do this swim. Swimming in open water can be a scary prospect, particularly when attempting such a long distance, but if her weight loss journey has proven anything, it's that the most rewarding things take hard work – something that Angela is no stranger to. Keen to follow in her husband's footsteps, she's determined to prove that if he can do it, she can too!
Angela says: "The furthest I swam previously is 100 lengths of the swimming pool, which equates to about 1.5 miles, raising £2,700 for When You Wish Upon a Star in 2014. Now, inspired by Richard, I'm looking to up the anti, by facing one of my biggest fears."
"My experience as a teenager really shook me, I genuinely thought I was dying. I'm apprehensive but I refuse to let my fears get the better of me. It's going to really test me, but that's a good thing!"
Sure to make a splash, we're all rooting Angela, and can't wait to see her reach another impressive milestone.