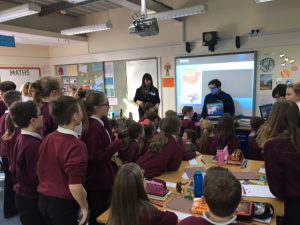 Following an invitation from Head teacher, Rachael Hatter of Beverley Minster Primary School, I visited the school on Thursday 2 March to talk to Year Six pupils about life skills.
My presentation was based around my experience of working for others, but also about my role as a business woman in Hull. Our business, The Promotion Company supplies promotional merchandise and branded work wear and has traded in the area for 28 years. My main role within the business is to plan for future growth and sales and marketing.
I asked the children, "What are your Dreams?", would you like to take part in personal challenges, or get a dream job. Then we helped to demonstrate that the life skills we need, also help achieve these dreams. The group of 60 children engaged immediately and maintained this throughout the 1 hour session with constant questions and contributions.
Words such as communication, passion, determination, creativity, integrity, trust and many others formed part of the discussions and the enthusiasm and positive attitude displayed by the children was staggering. The plan was to present for half an hour but this was flexible and still by the end of 60 minutes there was a constant stream of questions. Each child shared their career dreams which was so refreshing to see, that at such a young age, they had genuine vision for their future goals and how to succeed professionally.
Hopefully, this was an inspiring afternoon for Beverley Minster Primary School, I know that I certainly learnt from them. I was so encouraged by their excellent behaviour and wonderful social skills already being displayed by the children, a credit to their school!
Thank you to the teachers and children for such a warm welcome and for their participation, it was a genuine pleasure.