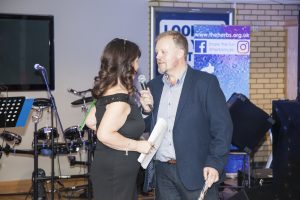 A charity fundraising evening raised over £6,200 in aid of When you Wish Upon a Star, the charity which grants wishes for children living with life threatening illness. The Promotion Company, based in Hull organised their second event for the charity. Having raised a total of £10,000.
Over 150 guests attended David Lloyd Gym and enjoyed a #LoveHull themed event which included a game of Mr and Mrs, an auction, raffle and musical entertainment from tribute band, The Herbs.
Angela Oldroyd organised the event. She said:
"We are delighted with the money raised at our event. It's hard work, very time intensive but we had a fantastic evening and everyone was happy, including the charity."
"Some children supported by the charity make wishes to be a fairy princess or soldier for the day, meet celebrities or sporting heroes that range from the Red Arrows to Mary Berry and others wish for a laptop to keep in contact with their friends and family whilst in hospital.
I went along with the families who took part in a magical trip, dubbed the Northern Santa Express. "The train whisks seriously ill youngsters away from hospitals and appointments to spend fun time with their families, giving them a chance to escape, even for a short while, from the difficulties they face on a day-to-day basis. It is such a privilege to be involved with When you Wish upon a Star and the amazing children it helps."
Gary Payne, is the Volunteer Auctioneer, Event MC and helper for When you Wish upon a Star. He says:
"As a charity, we rely heavily on the generosity of local people and businesses to help fund our project. We are absolutely delighted to receive such a fantastic level of support from The Promotion Company, I know how hard Angela, Richard and their team have worked over the last few months to bring the event together. Also a number of their contacts have been very generous providing high value auction and raffle items."
"The Promotion Company always pull off a great evening of entertainment and all the guests, including me had a ball."
For further information about The Promotion Company, and When You Wish, visit www.thepromotioncompany.co.uk and www.whenyouwishuponastar.org.uk