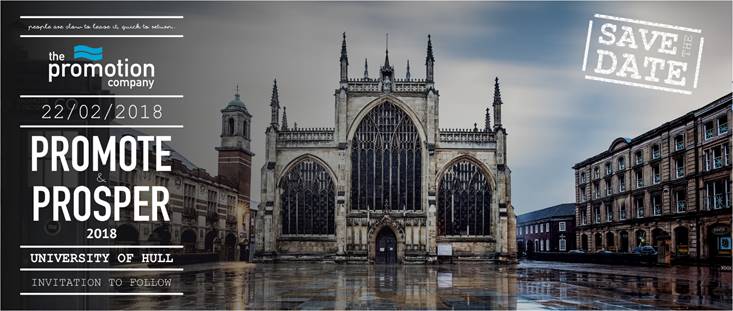 We are delighted to announce the launch of our much anticipated Promote and Prosper 2018 event to celebrate 30 years of The Promotion Company trading in Hull.
We would love you to join us on Thursday 22 February at the Canham Turner (formerly Staff House) at The University of Hull.
The event will include 15 of the industry's top promotional product and branded clothing suppliers who will exhibit over 2000 items.
The programme of events includes seminars with:
Angela Oldroyd, Co-Owner of The Promotion Company, Introduction and welcome to "Hull's Tardis".
Thomas Martin, Non-Executive Chairman of Arco will be "Travelling back in time", looking at his own Arco story and our City's business past.
Jonathan Elvidge, Founder of both the Gadget Shop and Red5 and now Co-Owner of Moodbeam will tell his story and then "Travel into Hull's future".
Please come along to this event for excellent networking opportunities, to learn more about marketing your business and to hear some great stories from successful local business people.
To register please visit Eventbrite bit.ly/TPC2018
We look forward to seeing you there.