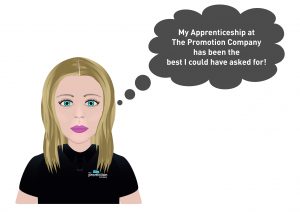 We are delighted to announce that Anna Lawson has completed her apprenticeship and is now a permanent member of staff.
Anna explains a bit about her experience:
"My apprenticeship at The Promotion Company has been the best I could have asked for. Over this last year I have achieved so much and grown as a person. Starting a new job and gaining further qualifications, has been challenging but overall very exciting and rewarding.
"I enjoy everything about the role and feel I have been given one of the greatest opportunities through on-the-job training. I am developing within different areas of the business and feel that I am helpful to my colleagues, getting on with my job efficiently."
"I have learnt how to print clothing, prepare artwork, create product visuals, provide client quotes and I also undertake some admin. I also feel professional when speaking to customers and enjoy working closely with them to represent their marketing messages.
"Here at The Promotion Company everybody helps each other and I know that as someone who is still learning the industry and business, I have a great support network behind me.
"I chose an apprenticeship because I wanted to start a career and start putting into practice what I had already learned at Hull College on the graphic design course. However I felt that as a person and a designer, I still had a lot to learn and the apprenticeship scheme has made things happen for me. I still got to go to college and gain further qualifications, along with learning so much about an industry and business. I would recommend this career route to everyone."
Jen Longden from Hull College (HCUK Training) says:
"Anna had been a student of Hull College and expressed an interest in moving over to an apprenticeship programme to begin her career. As soon as Anna came to meet the apprenticeship team it was clear that she would make an amazing apprentice and we felt she would suit The Promotion Company exceptionally well who were looking to recruit.
"Anna is over a year into her apprenticeship and it makes HCUK very proud to see how she is developing not only as an apprentice but as a young woman at the start of her career."
Angela Oldroyd adds:
"Anna is a real breath of fresh air. Young people are prone to bad press but Anna is hardworking, creative, efficient and a pleasure to have around. As a business, we would definitely recommend apprenticeships as a viable way to grow your team."
Anna cleverly has created cartoon versions us all, watch this space as we reveal the whole team.